Single U.S. Senator Prevents Passage of Clean Boating Act
NMMA Encourages Boaters and Industry to Contact Congress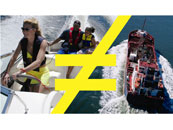 In an effort to pass S. 2766, the Clean Boating Act, before Congress adjourned for the July 4th recess, Senator Bill Nelson (D-Fla.) on June 26 requested an expedited Senate voting procedure that would have allowed the bill he introduced to pass by Unanimous Consent of the Senate to protect recreational boaters from an unneeded national boat permitting scheme currently advancing through the federal government.
In order for the bill to pass in this manner, there must be no objection from any Senator. Representing her commercial vessel constituents in Alaska, Senator Lisa Murkowski (R) objected to the Clean Boating Act, arguing that it should be expanded to include some commercial vessels, and filed an amendment to do so. Senator Barbara Boxer (D-Calif.) an original sponsor of the Clean Boating Act, objected to the Murkowski Amendment, arguing that the Clean Boating Act was the consensus product of a delicate compromise. NMMA is hopeful that commonsense will prevail and that relief for recreational boaters can be achieved before the imminent permitting deadline. For more information on this development, please
click here
.
The Clean Boating Act would restore a longstanding, commonsense regulation exempting recreational vessels and charter fishing boats from a pending, unprecedented Environmental Protection Agency (EPA) permitting regulation. If the Clean Boating Act is not passed before the end of September 2008, recreational boaters will face sweeping new mandates for incidental, overboard water discharges and $32,500 per day per violation penalties and exposure to citizen lawsuits. EPA has already proposed this unprecedented new permitting regulation for boaters. Click
here
and
here
for more information.
NMMA urges the boating industry and boating community to contact their elected officials and urge them to pass S. 2766 quickly. Please visit
www.boatblue.org
to easily contact your Members of Congress. Contact Mat Dunn at
mdunn@nmma.org
for more information.