Unprecedented Threats to Boating Highlight 2008 ABC Importance
Your Voice in Washington Is Needed More Than Ever!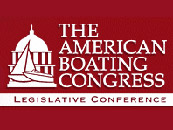 The number of legislative and regulatory threats facing the U.S. boating industry and American boaters is now greater than at any other time in history according to a March 11 article in
Boating Industry
magazine, making a strong participation in the 2008 American Boating Congress more important than ever.
Issues like national federal permitting of recreational boats, assaults on boating and fishing access, proposed tax reforms, a stalling economy, spiking energy prices, and recreational boat global export promotion abroad are a sampling of the topics slated for discussion during the conference taking place
April 27-29
at the L'Enfant Plaza Hotel in Washington, D.C.
The 2008 ABC has widened its appeal to diverse sectors of the boating community and the boating industry with an ambitious schedule designed to give participants an opportunity to learn more about these legislative and regulatory issues, and in turn increase the effectiveness of pro-boating grassroots advocacy in Congress. The conference is the best opportunity for the boating industry and boating community to rally together to educate key decision makers about their concerns through panel sessions, high profile roundtables, and one-on-one discussions with Members of Congress and key federal officials.
ABC registration costs have been significantly reduced compared to previous years' rates to just $250 per person to open this important conference up to greater participation. For more information, or to register, please visit the 2008 American Boating Congress website at
www.nmma.org/abc/
, or contact Duncan Neasham (
dneasham@nmma.org
; 202-737-9763).